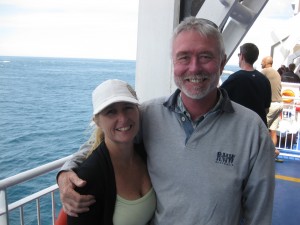 It was originally Alan's dream, to build the best ever all terrain, expedition vehicle that could be shipped around the world, to use as a base to explore the remote nooks and crannies of this earth. Then I, Julie, came into his life, adding another layer of requests, suggestions and creative ideas and helping Alan to even more sharply focus on what the Grand Plan really was.
So what is this Grand Plan exactly?
Build a motor home with every available bell and whistle for international off-road touring.
Make it so it can collapse into a shipping container for times when there is no roll-on roll-off  inter-continental freight available.
Temporarily wrap up our lives here in Australia in preparation for 4-6 months of travelling overseas. To be repeated twice a year.
Intended starting point is Santiago in Chille where they are well set up for receiving foreign vehicles without too much drama. We've been reliably told…
Learn Spanish! That will be left to me and I'm off to a fine start, I now know fluently how to say 4 words.
Head bush in our Bushman for what we anticipate will be 10 to 12 years of on and off touring. Securely leaving our truck wherever we happen to be in the world and returning home to Aus for a few months in between travel stints.
That's the Grand Plan and we would love to have our friends join us.
Well perhaps not literally, we only have a queen bed and two seats, but certainly via this blog if you have an interest in following our crazy adventures.