This is the Bushman in 'Drive' mode. In other words with the top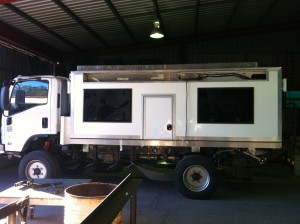 half of the accommodation box on the back, hydraulically collapsed down over the lower half. There is soooo much technology, innovation and brain power (by the  expert team at SLR Expedition Vehicles) that has gone into what most would think was a simple process, it is amazing to contemplate.
---

Making sure nothing inside or outside gets squashed,
---
and that every mechanism glides smoothly up and down (as it does beautifully) is evidence of SLR's experience and incredible knowledge.
Why in hell do we want this feature you might ask?
1st and Biggest Reason: This Baby has to fold up and fit into a 40″ High Clearance shipping container so  it can be freighted around the world. To do this, the wheels have to be replaced with rolling rims, all roof racks and gear stored inside. Alan drives the Bushman in and has to climb out the front window to attach the tie-down straps, get back in and reverse against them. There is about 100mm of space down each side of the container so Alan has to exit the vehicle by crawling out through a rear escape hatch. Quite a complicated process!
2nd Reason: We need to fit on standard sized 4WD tracks. We are slightly wider than the average 4WD but we can't be too much higher than the norm or we'll be taking out every low hanging tree there is. We don't want to have to give the chainsaw too much of a work out, everywhere we go!
There are lots of other reasons so if you'd like to find out more, reply with a comment or question.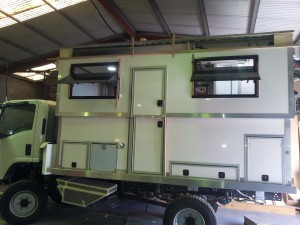 This is the same view of the Bushman only with the top fully up. You can see the horizontal line about half way, under the windows and through the main entry door.
To explain what the four lockers are on the bottom part:
The far right locker contains our washing machine. Pretty flash huh?
Immediately to the right of the door is storage for our outdoor fold up camp chairs and table.
Immediately to the left of the door; is a pullout chest fridge for all our outdoor food and cold beverage requirements.
The last locker on the far left is a full pullout outdoor kitchen, with BBQ, prep bench, cutlery and condiment draws and sink with water tap.
All these compartments have been dust proofed and are securely lockable.
Oh and right at the top of the accommodation box, is the space where the self-supporting, folding sun awning has now been installed.
And that's just what's on the left hand side… There is so much more to come, stay tuned.