There is lots to do in Longreach. Driving into town we head straight to the Qantas Founders Museum and Alan finds the best park, allowing me to catch plenty of shots with a 747 Qantas jet and our Bushman together, both showing the Spirit of Australia. A really interesting place, full of facts and info that I quickly text to my Qantas pilot brother for verification.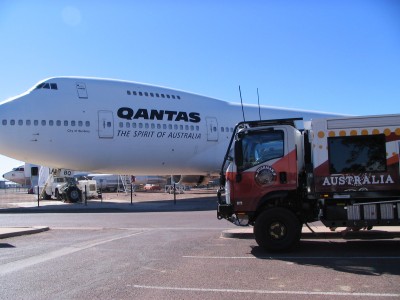 . Our eyes are blurry after 4 hours viewing the displays and we find the nearest caravan park, chockas full of GN's (Grey Nomads) and precede to do many wash loads of our diesel soaked clothes.
We are up early to do a Team Viewer call with a computer geek in NZ, Carl, who was brilliant in re-programing our CZone Fuel management system from across the ditch. How amazing is technology?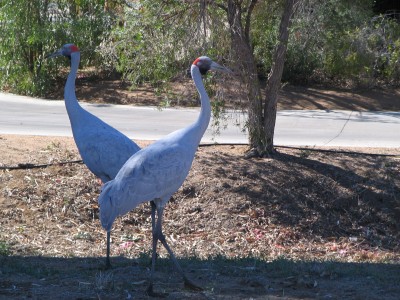 These two Brolgas are residents of our caravan park and behave much like large sized, common old dump birds (Ibis). They apparently try to get into camper's tents, looking for tit bits!
Deliberately within walking distance of the Stockman's Hall of fame we get there just in time for the singing cowboy show. Very entertaining actually.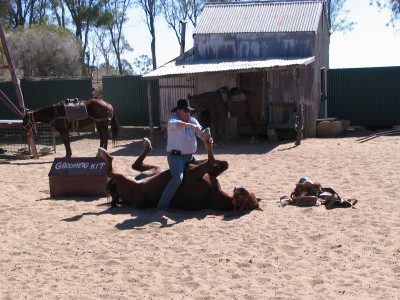 Lochie, the singing cowboy on horse… belly!
Another 3 hours of interactive displays about the trials and tribulations of an Aussie Stockman and we wonder back to our truck for a beer and a chat with our curious neighbours. Alan is getting really good at the Aussie Bushman Show!
Today is the first day we are feeling comfortable and at ease with how to operate the truck. Up til now we have both been a little uptight with how to manage the overwhelming list of things to check, making sure things are on, off, up, down, full, at the right temperature or the right pressure. Argh, it never seems to end and yesterday when I forget to get enough coins to do another load of laundry, I get the cranks and lose my cool.
But today is good, we are all smiles and kisses and agree that we have turned a corner. Living in our Bushman is bloody luxury! We have not yet been able to have a camp fire and without my little galley kitchen and our dinette area, it would have been pretty miserable having to 'live' outside as we always have done in our Troopie.
And we have even used the toilet!! Many of you would know, Alan is strictly a shovel, loo paper and matches man, off in the bush to 'be at one with nature'. But when you're in a camp spot, with 25 neighbours on your doorstep, it's freezing cold, the ground is as hard as a rock and there's no toilet, what do you do? You use your 'you beaut' flushing ensuite toilet, is what! No shovels required ,just a good scrubbing brush.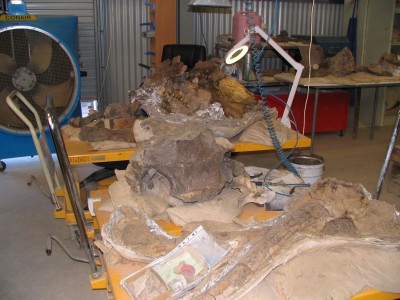 A big grocery shop the next morning in town and we head to Winton where the Dinosaurs were discovered. We visit a museum and working fossil preparation laboratory, chatting to the volunteers who actually pay to be part of the palaeontology dig and processing.
Tonight we share quite a beautiful dusty waterhole, enjoy a bit of a slow morning and drive for about 130k to Lark's Quarry, South of Winton to where a stampede of Dinosaur footprints were discovered 50 years ago. This is the most fascinating, we are enthralled with the information experts can glean from a football field of thousands of 95 million year old dino footprints and with the theoretical yet plausible scenario they have presented about how they got there.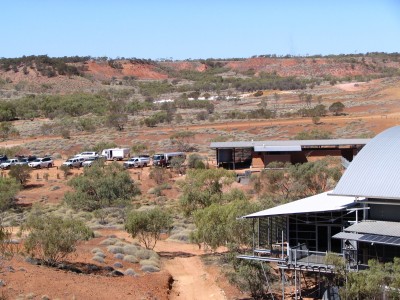 This is the Lark's Quarry museum building where the footprints have been preserved still on the mountain side they were found, under a huge canopy roof.
Another couple of hundred k's into the dusty and beautiful barren countryside and we camp by a waterhole surrounded by a rugged burnt orange escarpment in the Diamantina National Park.
I pop out a packet of frozen lamb chops on a log to thaw in the fading sunlight and we sit on the water's edge with a beer.
Yes well, we didn't have chops for dinner tonight… but the crows did!
Alan has been doing all the driving so far because I have been a bit chicken. All the bitumen roads are fast and trafficked heavily by massive road trains and there is absolute kangaroo carnage on the roadside everywhere.
There are multiple rotting carcasses about every 10m and I have this grisly movie going on in my head where roos ping constantly off the truck's windscreen, the wipers pushing aside the guts every k or so.
So, I have waited for a quiet opportunity to get behind the wheel and today was my day. Actually I did ok, after I stopped crunching my shoulders up around my ears and white knuckle gripping the steering wheel. The Bushman is pretty light to drive but the manual gearbox is totally arse about! First gear is DOWN, second is UP etc, it's crazy confusing and I decide to white 'liquid paper' numbers on the stick so I can see them properly. Yep, a very girly solution I know, but as long I do a neat job, Alan is ok with it.
Here at Boulia for the night, the last of our internet connection for probably two weeks and an opportunity to post, make calls, wash hair, do laundry, fix the screeching fan belt, fuel up and have dinner at the pub. Tomorrow evening we meet up with Val and Ted in Jervois before together venturing into the Simpson desert and highly restricted aboriginal territory.
We are loving having everybody replying and interacting on our website about our posts, it's making the story-telling really fun. Please invite anybody else you think might be interested in subscribing to The Aussie Bushman, the more the merrier!
Stayed tuned for our next post in a couple of weeks and thanks for joining us on our adventure!