We've flown in bright and early into Adelaide, 'switch on' the Bushman and check all systems are go before we head to the nearest shopping centre to stock up on fuel, food and grog. This afternoon we are booked on the 4pm ferry to kangaroo Island out of Cape Jervis; a 1 ½ hour drive away.
We have 15 days planned to explore this unique and ruggedly beautiful part of South Australia, famous for it's limestone and granite coastline, pristine white sandy beaches and dense eucalypt bushland; sanctuary to large populations of native Australian animals. Not to mention the promise of bespoke, local cuisine including sheeps cheese, craft beer and gin, delicious oysters and king George whiting. This Island is a mere 155 km in length, east to west so we are looking forward to some slow travel, taking our time to fully explore a few off-the-beaten-track places that not every hire-car tourist can easily access.
One of the first things we learn, when checking out all the brochures and info at the ferry terminal, is that it's not going to be cheap. Understandably, it costs fairly big dollars just to keep the island's 4500 residents supplied, let alone the thousands of tourists who visit each year. Having the Bushman ferried across the sea cost us $452 return (don't forget at 6.8m we are longer than most) including our first night in a Penneshaw caravan park. Tip: We received a significant discount just because we pre-booked one night's accommodation with the sea voyage.
Our first night was surely enhanced with a bit of authentic pizza, pasta and a damn good bottle of red at Eatalian in Penneshaw.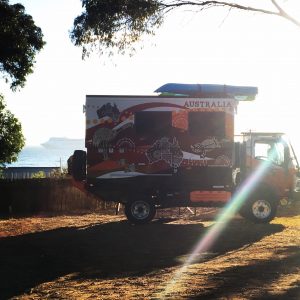 We wake to a fine sunrise and water views from the bed and observe a couple of thousand excited tourists disembarking from their cruise ship moored just off the wharf. It means the town will be buzzing with commerce but full of a few too many people for us; we decide after some consultation with a couple of locals, to head to the southern coast and do this eastern end last.
As is the usual routine, I pour over the maps, plan our route, read up on stuff and direct Alan off down the garden path. Generally, it takes us a few days to get into the groove of travelling and working together and I admit there is often a little bickering and debate happens while we settle into a touring plan, manage to let go of the stresses and worries at home and just plain RELAX!
I have discovered that a lot of the roads around the Island are dirt and today's particular 12km road, in my mind at least, promises to provide a very remote, private, wind-sheltered and stunning camp spot mostly because this dead-end road is so bloody corrugated nobody in their right mind would venture out this far! (and it looks good on the map) Our cabin chit chat gets a little heated as I try to defend my choice to have us violently shudder at 15km per hour down a road that may prove to be either camping nirvana or a windy hell hole. Alan wants to turn around after a couple of k's and I insist on finding out what's out there.
Phew! D'Estress Bay is a deserted, pristine, pure white sandy beach with a secluded little corner sheltered from the gusting wind by weather-sculpted limestone caves. We could not have found a more beautiful place to enjoy our chilled bottle of chardonnay and salty Kangaroo Island oysters. We end the day suitably chilled and relaxed.
The wind is howling from the south this Wednesday morning, it has been all night and it's rather cool and overcast. Vanilla porridge and golden syrup for breakfast I think.
We vibrate the 12 km back out of here and tootle down to Seal Bay Conservation Park and book ourselves in for a guided tour with our young ranger, Ashley. Despite the name of the bay, this colony of not-true seals are actually sea lions, so determined by the fact they have hair not fur and rear and side flippers they get up and 'walk' on rather than bounce on. The large male bulls have a kind of blond mane on their heads similar to that of a lion and lord it over the smaller mother 'cows' and their pups. Sea lions take a long 18months to gestate and give birth to their little ones, giving a very brief 12-24hour window of opportunity for the bulls to do their work before the cows shut shop for another 18 months. Hence the colony's population growth is rather slow.
Tonight's camp is at Vivonne Bay at a council camp ground with some lovely post-dinner koala action in the gum trees immediately in front of and behind the Bushman.
Today is Thursday (I think) and our opportunity to visit two of Kangaroo Island's most iconic landmarks. First is Remarkable Rocks, a stunning weathered rock formation teetering on the steep headland cliffs overlooking the crashing, powerful waves of the Southern Ocean. These granite boulders have the same composition as that found at Uluru and share similarly smooth, voluptuous shapes and form. Quite beautiful and irresistible to photography nuts like me.
Just around the Cape de Couedic is Admirals Arch, home to a fun and lively colony of fur seals who choose to swim, fish, play and sun bathe in and around the limestone caves and cavernous natural archway. Both attractions prove to be spectacular and should not be missed if you are visiting the island.
We are now down the far Western end of KI and after another short, teeth-chatteringly bad corrugated dirt road we arrive at Cape Borda lighthouse and camp alone in picturesque grounds called Harvey's Return.  This is where generations of lighthouse keepers and their families, took receipt of their supplies, tools and equipment by sea from Adelaide roughly only 4 times a year. The tiny, treacherous rocky bay was where the goods were rowed ashore and loaded into a trolley on tracks and up the incredibly steep mountain side on horseback and man back.
The next few days are spent tootling around the Northern side of the Island, exploring all sorts of dead end, dirt tracks that showed promise of a great camp spot and/or a panoramic view. Free camping is non-existent here, with a total of 14 choices of either National Park or Council facilities. Prices range from $17 to $30 a night for the two of us with facilities anywhere between woeful (not even a loo or tap for $15) to very clean drop toilets and a steaming hot shower.
The wildlife  is varied and abundant with most days revealing a natural show of native Australian animals that any international or domestic tourist would be hugely impressed with. There is a dark version of the large Western Grey kangaroo grazing almost every field and at dusk many of the juvenile males step up for a bit of boxing to impress the ladies. We see pretty and long-lashed Tammar Wallabies, sunbathing Rosenberg goannas, possums, koalas, echidnas, plenty of birdlife, Cape Barron Geese and dolphins but sadly don't see the elusive platypus despite a very early hike out to the platypus pools in Flinders Chase National Park.
We were somewhat surprised to meet so many born and bred Kangaroo Islanders, all passionately making a living in the region they love so dearly.  The locals have treated us kindly with the Bushman never failing to attract and instigate a conversation. In Emu bay, an enterprising young lady, Emily has just started serving delicious tapas type dishes from her cute vintage caravan kitchen 4 evenings a week and we drink wine and chat non stop while we eat at her stall.
And then the next morning in the car park, while I'm cooking up bacon and eggs for Al and I, we meet Tom and Fiona who have stopped for a chat on their morning walk, bearing gifts of home grown tomatoes. They are farmers and almost Kangaroo Island royalty in fact, with their free range egg business, Fryars Eggs, keeping them and their extended family on the island for more than 70 years.
Stokes Bay was gorgeous with it's secret limestone cave path that suddenly opens onto a white sandy beach and sheltered swimming lagoon, bordered by a natural rock shark barrier. The groovy little Rockpool Café that runs the small camp ground here, serve us sensational panko crumbed local King George whiting and a chilled bottle of KI white.
A drive through the recently fire-devastated Snelling Beach, shows many holiday homes, eateries and farmhouses that very narrowly escaped the fire that 2 weeks ago roared up and down the hills and right up to the sea.
We spend the night at Western River Cove (with quite a few other campers) and discipline ourselves into having an alcohol-free night to, you know, give the liver a bit of a break! It's the first time on this entire trip so far.
Our last night sees us stay on the banks of the Chapman River near Cape Willoughby on the most Eastern point of the island. Reportedly great fishing but hook nothing  with the lure but there is green grass under foot and we are nicely sheltered from the wind in a sunny spot. A nice end to our trip.
Tomorrow we drive to Adelaide to clean up and shut down the Bushman and fly home to the Gold Coast. It has been a truly lovely, relaxed adventure in our Aussie Bushman and we can't wait to return again in 5-6 weeks to this time explore the Eyre Peninsular.
Sadly, this could well be the last time I post on the website. I have been struggling to decide on how best to tell our stories of adventure and wonder if this long-story format with photos is still as interesting to you all as it used to be, back when we started. Are you actually getting to the end or would you prefer to find out what we are up to in shorter, 'as-they-happen' doses on either instagram or facebook? I'd love to hear your comments on this please.
You can find us on both of these social media pages as The Aussie Bushman.
Thank you as always for joining Alan and I on our wild adventures on the road. We love having your company.
Cheers,
Julie and Alan